Essays
Lana Williams – Antigua

"No one who cooks cooks alone. Even at her most solitary, a cook in the kitchen is surrounded by generations of cooks past, the advice and menus of cooks present, the wisdom of cookbook writers." ― Laurie Colwin The time I spent at the Institute of Culinary Education in New York, was FANTASTIC, AWESOME, FABULOUS and any other wonderful word that there is to find.  The courses that I took were Techniques of Cake Decorating 1&2; Cake Pops and Techniques of Chocolate 1.  My instructors were Chefs Toba Garrett and Faith Drobin.  Now, Toba Garrett is a famous cake decorator who's published six books all dedicated to the art of just decorating cakes.  Chef Toba is very passionate, and shows a lot of enthusiasm about what she does.  Just seeing the way she acts and the way she speaks when she looks at what she has done (showed us to do), it really shows that she truly loves what she does, and that's important.   Chef Faith from my judgment is a lover of sweets and the art of pastry making itself.
WEEK 1- Cake Decorating 1
One the first day, we were put into groups of twos and that's the partner that we'd have for the rest of the week.  Each of us also got our very own set of piping tips, a piping bag and a tip cleaner to keep.   We learned how to make Swiss Meringue Buttercream; and this type of buttercream is HIGH in calories because it contains 3lbs of unsalted butter – making it not a good choice for tropical climates – and only 1 ½ lbs. of granulated sugar.  It also contains egg whites (hence the term meringue.) She told us that adding alcohol whether it's some sort of rum or liqueur, its helps to cut back on the butter taste of the buttercream.  I've ALWAYS wanted to try making that and I finally got the opportunity to do it, that's an A++.  Using that same buttercream, we were taught how to pipe the star flower, doing it the correct way, the commercial way and a combination of both; shells and the zigzag techniques and the different angles (45 degrees and/ or 90 degrees) used to achieve them properly.  And this really does work I might add because the angle affects the finished piped product.  How awesome is that?
On day two, we made the Decorator's Buttercream.   This is the complete opposite of the Swiss because it contains 3lbs of confectioner's sugar and only 1lb of butter along with high-ratio shortening.   It contains Meringue Powder which actually helps to make the buttercream more stable and this type of buttercream is fabulous for the tropical climates seeing that it also has a higher sugar percentage, so when its being piped, it holds its shape much better.  Since it is much sweeter, we added milk, fresh lemon juice and our choice of liqueur in specific quantities to cut back on the sweetness of the buttercream.  We used it to pipe, rosettes, reverse shells, fleur de lis, and garlands.  The garlands were a bit trickier to pipe because of the amount of pressure that had to be released and when to ease up on the pressure, and the speed used.  That day we also learnt about the different forms that colours came in, such as gel, powder, liquid and paste; and what works better with what because some colour forms can change the consistency of a buttercream.  We did colour combinations based on ratios to achieve specific colours based on specific colours as well.
On day three, we made the buttercream for piped roses.  This buttercream is somewhat similar to the decorator's buttercream but it is a bit stiffer because it contains less moisture.  Now I was taught before how to make roses from fondant, so learning how to actually pipe a rose was different. There was a bit of difficulty but as I went along I got the hang of it.  We also learned how to pipe rosebuds, half roses, leaves and swags. And once again, the angle used when holding the bag was a key factor.
On day four, we made marzipan and chocolate plastic (also known as modelling chocolate, chocolate clay, candy clay or chocolate leather).  The marzipan was done by my partner while I made the chocolate plastic which only contained chocolate and corn syrup.   I first had to melt the chocolate three-quarters of the way and then remove it from the heat and stir until the remaining chocolate had melted.  Once it had all been melted, I added the corn syrup and stirred until it left the sides of the bowl.   I wrapped it and stored it to be used the next day.  The marzipan consisted of almond paste, vanilla extract, rum and confectioner's sugar.  My partner had to do a lot of kneading in order for it to be nice and smooth; she really got a work out that day.  We used the marzipan that day to make marzipan fruits and vegetables; it was SO much fun, everyone had a blast that day.  We once again did colour combinations – even used cocoa powder – along with ratios of the coloured marzipan to achieve a more realistic look to our fruits and vegetables.  We made carrots, raspberries, apples, peaches, pears and pumpkins that day.
On day five, we used the chocolate plastic from the previous day to make our CHOCOLATE ROSES!!!!  We had to get the room as cool as possible since we were working with chocolate.  This was a bit tedious but I pulled through.  We made chocolate leaves, ribbons and bows that day as well.  Then, we also iced our own cakes.  We used an Amaretto Mocha Buttercream that she prepared for us.  Her technique was different from the way that I am more familiar with when icing a cake and I thought hers was a very good one too.  After we'd finished icing our cakes, we used the chocolate roses, leaves, etc. to decorate our cakes and our choice of piping technique(s) that we learned during the week.  At the end, we all got to take home our cakes.
WEEK 2
During this week, we worked on two pieces; a faux cake and a spray of gum paste flowers to go on top of the cake.  The faux cake's body was an 8" round Styrofoam.  We covered the foam with rolled fondant and we used plastic smoothers to make sure the fondant had a nice smooth finish on the top and the sides of the cake, this I must say works well.  We piped a border around the cake which resembled a little white beaded necklace.  Above that border, we had to create a bridge using egg-white royal icing around the entire cake and this had to be done 6 times.  After we created the bridge, we had to do a VERY tedious job; we had to do string work using a very small tip (#0 round tip) to pipe strings around the cake and using that same very tip we had to do lace work.  After piping, we left the strings and lace pieces to dry overnight. The following day, we took the laces pieces (I did hearts) and had to CAREFULLY attach them to the ever so fragile strings we'd piped the previous day.   After completing the body of the cake we got started on our gum paste flowers from gum paste we made.  We made roses, carnations, blossoms, buds and leaves; then we took the flowers and learned how to arrange them to make a spray of flowers and the end product was very beautiful.
WEEK 2-SATURDAY
My one day class was a "Cake Pop" (a cake on a lollipop stick) session, instructed by Chef Faith Drobin. This class was GREAT!  We were divided into groups and we each had to bake a half sheet pan of either yellow or chocolate cake, my partner and I got the yellow cake.  After the cakes were cooled, we had to crumbled them up and use a certain amount of cake crumbs to a certain amount of binder (e.g.  frosting, peanut butter, chocolate ganache, etc.), then roll them into balls and then put them into the freezer so that they could get firm before we put the lollipop sticks in.  We had to use melted chocolate to stick the lollipop sticks in to the cake ball after we took them out of the freezer, and then dip them into different types of chocolate.  After that was done, we all got really creative with the decorating, from marshmallows to purple sprinkles, we used it all; and then devoured them.
WEEK 3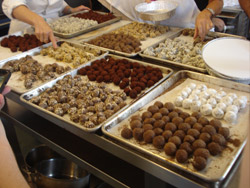 Week three was dedicated to Techniques of Chocolate 1 instructed by Chef Faith Drobin, and we were also placed in groups.  On the first day, we learned about chocolate itself and how to temper it.  This process has to be dealt with care because the chocolate has to reach a certain temperature over heat and then it must be brought back down to another temperature once it is removed from the heat (taking in mind that for each type of chocolate there are different heating and cooling temperatures); and also the temperatures that they should be elevated to.  After we tempered the chocolates – white, dark and milk – we used them to make different types of chocolate confections from chocolate candy bars to chocolate clusters containing potato chips and marshmallows; and dipped fruits.
On day two, we made various chocolate truffles but each group had to choose two from a given list.  My partner and I made Chinese-five spice and Espresso truffles.  We were the only group that went out on the limb to try the spice truffles, because the other groups were a bit unsure about how that would taste; and in the end to all of our surprise it was so delicious, I loved those the most.
On day three, we made candies.  We had to make Almond Buttercrunch, Cream Caramels and Torrone.  The caramels took the longest to make, and I mean the entire class period, but they were good.  The torrone now, that took some arm muscles to make after all the ingredients were combined, but we pulled through, it was rather a funny process with a few laughs here and there.
All in all, everything went well and ICE is a school that I will definitely be returning to in the near future and I would encourage anyone to attend.  The experience was a great one and I will share what I have learnt with my colleagues, family and our future generation.
SPECIAL, SPECIAL THANKS GOES TO:
The Caribbean Hotel and Tourism Association Education Foundation
Starwood Hotels and Resorts Worldwide
The Management of Curtain Bluff Resort
The Staff of Curtain Bluff Resort for their support
The Institute of Culinary Education –  Chef Toba Garrett, Chef Faith Drobin and Director of Student affairs – Andrew Gold
To God, family and friends.
Thank you all, very much, from your honoured scholarship recipient,
Lana Williams.