Caribbean Region Outperforming Its North American Neighbors
The hotel industry in the Caribbean region gave itself a nice head start for 2019 with record first-quarter performance.  Hotels were able to increase occupancy by 1% over Q1 2018, but the real boost came from higher rates that saw an increase of 7% year-over-year.
Since the end of Q1, though, we have moved out of the Caribbean's high season and things have naturally started to slow down.  Supply growth continues to increase year-to-date (now at 2.7%) and Demand is still growing but slowing for the year.  That is bad news for occupancy.  Where we saw a 1% increase in occupancy for the first quarter, Q2 saw occupancy drop -4.1% year-over-year.
The good news is that pricing power continues to strengthen in the Caribbean.  So far this year, ADR is 9.1% higher than it was this same time last year.  So despite a year-to-date drop in occupancy, Caribbean hotels are enjoying an increase in RevPAR of nearly 7.5% for the first half of 2019.  At this pace, there is no doubt the Caribbean will reach an all-time high for RevPAR.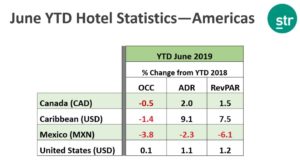 This record year in the Caribbean comes at a time when other regions are experiencing a slowdown in performance.  Mexico hotels keep slipping further and further into the red.  Second quarter occupancy in Mexico was the lowest since 2013, and RevPAR in Mexico is now more than 6% lower than this same time last year.
In Canada and the United States, RevPAR is still growing but certainly slowing.  Canada has seen year-to-date occupancy decrease half a percent so far this year.  Fortunately, Canadian hotels have increased rates by 2% to keep RevPAR growing at 1.5% for the first half of 2019.
Occupancy growth in the US is flat (+0.1%), but mediocre rate growth has given hotels there only 1.2% RevPAR growth for the year.  To highlight just how little pricing power US hotels have right now, four out of six months this year have seen ADR growth of less than one percent.  That is not a great sign considering the number of months with sub-1% ADR growth from 2011 to 2018 was zero.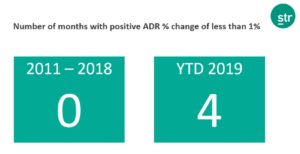 What is the lesson hotels can take away from all of this?  While we still haven't seen the end of the current upcycle for the US hotel industry, the end will eventually come.  And when the US sneezes, the Caribbean tends to catch a cold.  The good news is that most analysts believe the next downturn will be soft and short lived.
The Caribbean has given itself a head start for a record 2019.  Now hotels must stay diligent with their revenue management strategies to keep that momentum going into the next high season.  If they do that, it may just be possible to sail right through the downturn when it eventually comes.
Article supplied by CHTA Strategic Partner – STR.