CHTA Outreach: CEO and Director of Membership visit Haiti
CHTA launched this year's outreach to destination tourism industry stakeholders and National Hotel and Tourism Associations with a series of meetings in Haiti in February by CHTA's CEO Frank Comito and Membership Development Director Martha Valdivia.
The visit coincided with Comito's participation in the CARICOM Heads of Government meeting where CHTA and CTO presented recommendations to the leaders for advancing and sustaining a Caribbean regional tourism marketing and development initiative.
During three days of site visits and meetings with the leadership and members of the Association Touristique d'Haiti (ATH), Comito and Valdivia gained valuable insight about the tourism product, its potential, and issues and areas of focus important to ATH and the development of Haiti's tourism industry.
Following initial meetings with key members of the ATH Board, led by their President Beatrice Nadal-Mevs, ATH's CHTA liaison Christian Roy Fombrun from the Decameron Resort and Sebastien Buteau from Servotel, ATH arranged for a day-long aerial tour of the island, viewing existing and potential tourism development sites, road infrastructure projects underway, and the vast natural and agricultural resources throughout the country.  The following day Pierre Chauvet, owner of Agence Citade, the country's largest tour operator, provided Comito with a ground tour which included visits throughout Port-au-Prince/Petion-Ville and the surrounding mountains, including the Wynn Farm, an agro-eco-nature tourism attraction.
While attending CARICOM related meetings, Valdivia visited several hotels in the city; among them Le Plaza Hotel, a long-standing member of CHTA.  The GM Marc Pierre-Louis provided great insight on the country's tourism-related challenges and opportunities.
On the final day, ATH gathered hotel and allied members at the Karibe Hotel (part of the Buteau Hospitality Group) to discuss the work of CHTA and ATH and share with ATH members ways in wich they can participate in and benefit from CHTA services and activities.  At the meeting key areas of future collaboration were identified, including:  Education and Training, Culinary Development, Effectively Using CHTA's Marketing Tools, assisting ATH with Strategic Planning and Capacity Building; and having CHTA advocate with Government the importance of building effective public/private sector partnerships.
Next on the list of destinations to visit by the CEO include Bonaire, Curacao and Aruba in March.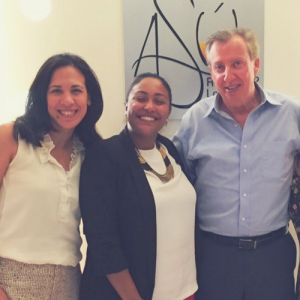 Photo (left to right): Martha Valdivia Director of Membership Development CHTA, Sacha Perez Sales Manager at Buteau Hospitality and Coordinator of Education Committee at the Association Touristique d'Haiti (ATH), Frank Comito CEO CHTA.