Congratulations to NEWH 2017 ICON of Industry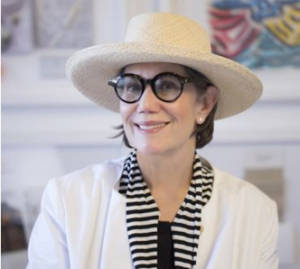 The Network of Executive Women in Hospitality has awarded Janice Feldman, a CHTA Allied Member,  with the NEWH 2017 Icon of Industry Award. This is only the twelfth ICON award bestowed in the organization's thirty-seven year history and will be formalized at a gala event at BDNY in New York City this fall.
Janice Feldman, Chief Executive Officer of JANUS et Cie, has been a leader in the design industry since the company's founding more than 35 years ago. A trained artist and interior designer schooled in graphics arts and industrial design, Feldman is renowned as a business maverick, a champion of great design, and a visionary in the field of material innovation. In her passion for travel, Feldman has climbed the Himalayas and tracked chimps in the jungles of Tanzania. Her quest for understanding different cultures has lead Feldman to extended journeys in Europe, Southeast Asia and the Middle East. Her devotion to environmental responsibility has driven her to pioneer the use of environmentally friendly materials to extend product life cycle. This dedication has been recognized throughout the industry. Thanks to Feldman's esprit, what began as a representative firm for established furniture and textile manufacturers has evolved into a unique and extremely eclectic company, the leading international source for contemporary lifestyle furnishings and accessories.
Feldman plays an integral role in product development at JANUS et Cie and has created many award-winning collections. Recent additions include Katachi, Capella, Artemis, Sash, Amari, Boxwood, Capsule, Relais, Suki, Tadlow, Triad, Vino, Whisk, Wing and Whiskey. In April 2017, Feldman received an honorary doctorate in Fine Arts from the ArtCenter College of Design.