Historical Travel Data: How to Use It to Attract More Travelers
History is a marketer's best teacher, BUT only if the student uses what the past has taught them and gears their plan accordingly. A close examination of historical data on traveler preferences and behaviors can uncover great opportunities to drive incremental visitation for destinations in the Caribbean. Luckily, travel data-driven companies like Sojern can provide marketers with historical profiles that allow views into multiple data sets in a very digestible manner. Here are a few data-based insights that we gathered throughout 2015 that can help set the tone for your marketing efforts in the new year.
Caribbean marketers face incredible competitive pressures – within their distinct market and on a global scale. Looking back to Sojern data for North America in Q1 2015, the top ten origination markets with confirmed flights for the Caribbean region were as follows:
1.    Fort Lauderdale
2.    New York City
3.    Boston
4.    Miami
5.    Chicago
6.    Philadelphia
7.    Washington, D.C.
8.    Orlando
9.    Atlanta
10.   Toronto
Sixty three percent of these confirmed travelers stayed 6 or more nights during their trip and the overwhelming majority were traveling for leisure. Travel intent data can also help Caribbean marketers understand strong opportunity markets where search volume was very strong in the past year but did not result in similar booked volume, including: Paris, Los Angeles, Detroit, Baltimore and Dusseldorf, among others. Consumers who display interest in certain destinations often need an additional nudge to get them to actually book – retargeting can go a long way, something to keep in mind as you review your marketing and advertising budgets this year.
While the concentration of Eastern Seaboard travelers to the Caribbean is no surprise, specifically in the first quarter of last year, the overall competitive set of destinations consumers are considering alongside the Caribbean is much broader.  Users searching Caribbean destinations also showed interest in: Las Vegas, Barcelona, Honolulu, Bangkok, Los Cabos, Madrid, Phoenix, Amsterdam, and Bali. Simply put, your are competing not only with other Caribbean destinations but with the entire globe for the same travelers and their leisure budgets.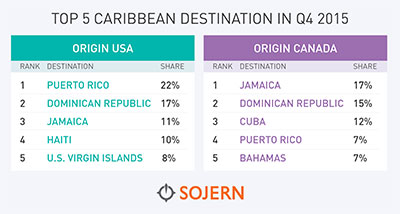 But hey, wait, what about Cuba? It is hard to believe it has been a year since President Obama agreed to reestablish ties with Cuba.  While there are many hurdles still to cross, those of us living in this space know it is only a matter of time, and it will put an asterisk on historical data. Canada offers clues for what Cuba could become as a destination for the US market: Canadians love Cuba and the island has been in the top five destinations in the Caribbean during the entirety of 2015. Already we are seeing signs that the island nation is gaining interest from US travelers – at the end of last year, Cuba ranked 16th in the top 20 most popular Caribbean destinations for US travelers,  a slight dip over where Cuba was during the summer months but a net increase over position 19 where it ranked in November 2014.
There are strong data resources available that can put a destination in the best possible position to drive strong incremental visitation. Companies like Sojern are available to help marketers understand and navigate this big data – drop us a line via our website form with any questions related to your particular destination.