Newsletter April 2022 – Caribbean Travel Marketplace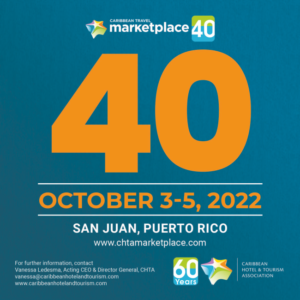 MARKETPLACE IS BACK
The Caribbean is a favored region, and the recovery of tourism is happening faster than expected.  Don't be left out, join us in Puerto Rico this October as we set the stage for Reimagining Caribbean Tourism!  After an 18-month hiatus, Caribbean Travel Marketplace 40 is expected to return to its pre-pandemic glory, building on the success of the past 39 years of the most memorable in-person gatherings, featuring a platform for maintaining tourism and memberships with dynamic new programs and creative opportunities.
Puerto Rico is no stranger to Marketplace, having hosted nine previous events, and the destination is sure to wow and delight delegates with a dynamic 40-year celebration that will surely rival all others. In addition to the business side of Marketplace, Puerto Rico has promised to raise the bar on the culinary and entertainment scene as well as dynamic island attractions such as the new Distrito T-Mobile Entertainment Complex. 
Marketplace has long been the annual industry gathering for the fellowship of regional colleagues and suppliers showcasing existing and new products, services and major hotel renovations throughout the region to buyers and media from all over the world.  Celebrating its 40-year anniversary, the Marketplace milestone year also dovetails with the CHTA's 60th birthday – 60 + 40 = 100% CARIBBEAN!
As the largest tourism event in the region, Marketplace 40 provides the venue to discover all the Caribbean has to offer in one location.  Averaging 1,000 delegates and 140,000 appointments at previous events, this year is poised to surpass all expectations as demand is rolling back strong for business to the region. As consumer confidence increases, visitors are eager to get back to the experiences they love. Caribbean Travel Marketplace 40 is a major catalyst for growing Caribbean Tourism across the globe by cementing existing relationships and creating new ones.
Why is Marketplace important for you?  If we are to sustain the robust recovery of 2022, we must work "together" to grow our businesses into 2023 and beyond through hard work and strong partnerships. This also includes more rigorous global awareness and regional growth strategies, and we're including more global partners from around the world than ever before, touching every corner of the globe.
What's new for this year?  An enhanced buyer outreach approach geared towards reaching new buyers from different regions such as Europe, U.K. and LATAM. Exploring new buyers from niche markets such as romance, adventure and meetings & events (MICE), as well as working with experts in the industry to help us attract these key buyers. Leading up to the event, CHTA will also present "40-days of Marketplace", providing an opportunity for every destination in the region to take advantage of the opportunity to showcase and highlight their tourism product offerings through digital media, including the rich culture and heritage which make each place so unique.  
What's next? The Marketplace 40 Committee and the Marketing Committee are finalizing plans now, and registration with more details will be available soon. We will keep you posted on all updates through our website, social media platforms, and email communications. In the meantime, SAVE THAT DATE, as we look forward to seeing you in Puerto Rico at Caribbean Travel Marketplace 40!
CHTA MARKETPLACE 40 COMMITTEE
Fred Lounsberry, NPIPB, Bahamas
Stephanie Mack, Hermitage Bay, Antigua
Stephen Wright, Grand Case Beach, St. Martin
Alfredo Gonzalez, Hilton Caribbean
Kavita Sandiford, St. James Travel & Tours, Barbados
Dinesh Kissoon, Secret Bay, Dominica
YLF – Sonia Simmons, Turks & Caicos
Victoria Cranmer, Paradise Promotions
Stacy Cox, TCHTA / CSHAE & NHTA
Federico Moreno-Nickerson, AMResorts, Co-Chairman, Marketing Committee
Jim Hepple, Tourism Analytics, Co-Chairman Marketing Committee and Treasurer,
Karen Whitt, Chairman, Marketplace 40 Committee
Vanessa Ledesma, Acting CEO, CHTA