Newsletter April 2022 – Industry Data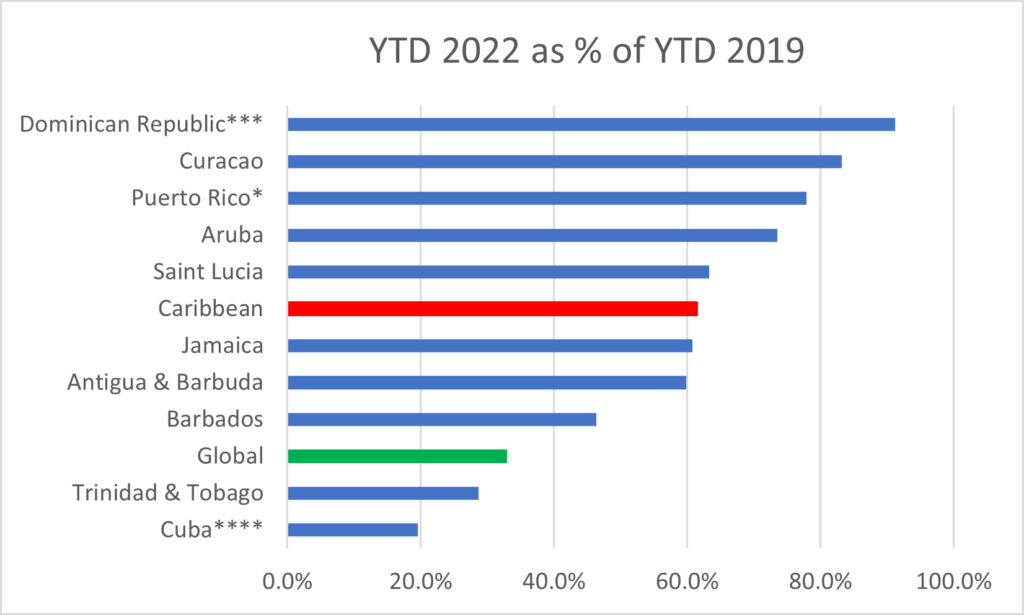 The Caribbean takes the lead in global tourism performance
According to the United Nations World Tourism Organization (UNWTO), in January 2022 the Caribbean led the way in strength of the recovery of stopover arrivals.
According to UNWTO,  the latest statistics show total international stopover tourist arrivals in January 2022 were 32.9% of the total achieved in January 2019.
However, the aggregate numbers for Caribbean destinations reporting their year-to-date 2022 stopover arrival numbers show that the region achieved 61.5% of the regional total for the same months of 2019, the highest rate of recovery of any region in the world. 
The second highest was Southern Europe/Mediterranean with a 59.5% recovery compared with their 2019 numbers. 
The worst performing region continues to be the Asia/Pacific region with only 7% of their 2019 visitors recovered in January 2022, largely because of the loss of outbound Chinese traffic.
The top performing destination in the Caribbean in early 2022 continued to be the Dominican Republic, which recovered 91.2% of its 2019 traffic in the first two months of 2022, followed by Curaçao, Puerto Rico, Aruba and St. Lucia. The worst performing destination continues to be Cuba, which only recovered 19.6% of its 2019 arrivals in the first two months of 2022.
This performance continues the positive trend seen in 2021 when the world's tourism sector saw 421 million international stopover arrivals, just 28.7% of the 1.468 billion arrivals registered in 2019. 
The Caribbean was the best performing region in the world, reporting 15 million stopover arrivals in 2021, 57% of the 26.3 million it received in 2019. 
For more information go to www.tourismanalytics.com.
Remember that Mastercard is providing CHTA members with access to Tourism Insights. CHTA Members can leverage this access to relevant, smart data and tourism insights to reach their "ideal" tourist, increase efficiency, and optimize their marketing investments to maximize return on investment.