Newsletter July 2022 – President's Message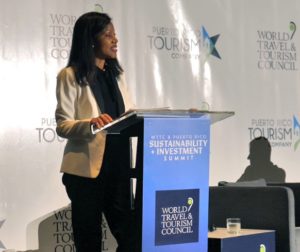 In my April message, the focus coming out of a tough first quarter was how much we could work together as a region to fast track the recovery process from COVID-19. Well members, the news is good. All indicators are that Caribbean tourism is back!
The recently released WTTC report on Caribbean tourism performance stated a 36.6% growth in GDP for the region in 2021 over 2020. The Caribbean is the second fastest region recovering globally; while still 36.1% below peak year 2019, the future looks bright. The WTTC is forecasting between 2022 and 2032, Travel & Tourism's contribution to the global GDP is estimated to grow at an average annual rate of 5.8% — outpacing the forecasted average annual growth rate of 2.7% for the global economy. The Caribbean Travel & Tourism sector will enjoy this growth and is expected to grow at an average annual rate of 5.5%, more than double the region's overall economy growth of 2.4% to reach US$ 85.1 billion in 2032 from US$ 50 billion in 2022. Meanwhile, Caribbean travel and tourism jobs are forecasted to grow by an average rate of 3.3% annually, creating more than 916,000 new jobs by 2032.
However, as we all know we still face significant headwinds due to lack of air connectivity, labour shortage issues, supply chain disruptions and continued travel restrictions in some territories and the potential for other external shocks still looms.
Yet, what is important to note is that through collaboration and effective partnership, Caribbean tourism was able to sustain the most significant blow to its operations and it has survived. Now we must work collectively to ensure it not just survives but thrives. This means using the lessons learned over the past two years, seeking new solutions through innovation and technology and on-going up-skilling and re-skilling of our work force.
As we approach the end of the summer, we will continue our collaboration and coordination of efforts – The comprehensive work undertaken this year thru CARICOM with CTO, CHTA, CARPHA and the OECS to continue to develop both short-term and long-term strategies and plans to rebuild tourism provides an excellent framework.
I am happy to report our collaboration with the OAS will see the finalization of research that will ensure a sustained and safe pathway to recovery for our micro, small, and medium sized tourism entities (MSMTEs) and give them support to undertake implementing practices to shore up their level of resilience and ability to thrive.
As we approach our major trade event in October and celebrate its 40th anniversary, I look forward to seeing everyone in Puerto Rico. This year's Marketplace will be one-of-a-kind, embodying all that truly makes the Caribbean special. New elements such as our Caribbean Travel Forum, inclusive of Meeting Planners and Destination Wedding specialists and well as other niche tour operators from current and new markets will give a new level of importance to Marketplace.
Once again, as CHTA celebrates its 60th anniversary this year as the premiere association and the voice of Caribbean tourism, we call on you, our members and those who are yet to become members, to join us in re-imagining, re-focusing and reviving Caribbean tourism to deliver a much more robust, resilient, human-centric and technology driven industry that can anticipate future shocks and create an environment for sustained growth and profitability.
As president, I continue to encourage you to become an active participant in CHTA. Start engaging our team in the CHTA office, utilizing the exclusive members only data centre of the website, use our Job Bank to post and recruit new team members and engage our committee chairs and of course, engage me as your president towards ensuring our collective success.