SUCCESS-IT'S IN THE NUMBERS!
Things are looking up for the Caribbean
2019 is off to a great start in the Caribbean.  Supply growth is holding steady at 2%, while Demand growth is a healthy 3% so far this year.  That means that 2019 occupancy growth is nearly 1%.
The real story for Caribbean hotels, however, has been rate growth.  Hoteliers are flexing their pricing power with ADR growth so far this year at just over 7%.  Annualized rate growth (12 Month Moving Average) of 4% for the Caribbean is the highest it has been since early 2015!
That modest increase in occupancy and impressive jump in rates has led to 8% RevPAR growth in the region.  Hoteliers are making 8% more revenue per available room than last year.  That's great news!
How can you use this data?
How does this apply to you and your hotel?  Well, you want to make sure you are keeping up with the competition and getting your fair market share.  You can't improve what you are not measuring.
In other words, do you know how much you have grown occupancy and rates since last year?  And how does your growth compare to that of your competitors?  Before you congratulate yourself for growing rates by 2% year-over-year, you need to know your competition's number.  If they have grown rates by 8% compared to your 2% growth, you could be leaving money on the table!
Day-of-Week Data—fine tuning your rate strategy
Another useful way to look at the data is by day-of-week.  Some people think that in the Caribbean region we don't need to pay attention to daily data because most guests stay for an entire week.  However, the data says differently.
Like everywhere else in the world, Sunday is the slowest day for Caribbean hotels with barely 60% occupancy.  Compare that to nearly 70% occupancy on the weekends and it makes a big difference.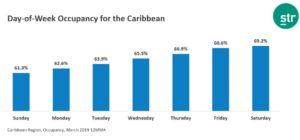 Rates throughout the week, however, are surprisingly even.  ADR on Saturday—the busiest night of the week—is only one dollar more than Sunday.  On the bright side, hoteliers are doing a great job of holding rates on slower nights, but this could also reveal opportunities for better rate management on the weekends.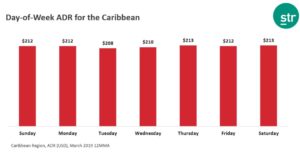 Again, this data can be applied directly to your hotel's rate strategy.  For example, let's say that you are beating your competition in occupancy on Wednesdays and Thursday, but you are behind in ADR for those days.  What does that tell you?  Exactly—you need to raise rates on Wednesdays and Thursdays!
Where can you get this data?
All of this data is available in STR's benchmark reporting—and there are reporting options for all budgets.
Participating in STR's Hotel Survey is absolutely free for hotels and offers benefits on two levels.  First, STR's monthly reports provide hotels a great tool for managing rates and even marketing and budgeting strategies.  Second, each hotel's participation in STR's program strengthens CHTA's ability to boost tourism to the local destination by empowering them to lobby for airlift and plan marketing campaigns.
Hotels can help themselves, their local market, and the Caribbean region as a whole by participating in STR's free benchmark reporting.  Remember, if you want to improve performance, you first have to be able to measure it.  Success—it's in the numbers!
Provided by Emile Gourieux, STR