TRAVEL PARTNERS TRAIN CARIBBEAN HOSPITALITY SECTOR ON DIVERSITY
MIAMI (December 16, 2018) – Recognizing the changing dynamics in the global tourism industry and the imperative to meet customers' needs and expectations, the Caribbean Hotel and Tourism Association Education Foundation (CHTAEF) in partnership with two of its corporate partners, Interval International and Virgin Holidays, has launched a new program to support the training and development of Caribbean industry professionals.
The first of two of recently completed training programs was held in Barbados in partnership with Virgin Holidays with a focus on diversity. This training grew out of Virgin Holidays' 2016 commitment to become one of the most tolerant and welcoming brands in travel and CHTAEF's decades-long goal to support and foster the professionalism and training of Caribbean nationals in the hospitality industry. The Barbados exercise, designed and delivered by Talk-About Earth Solutions, provided nearly 130 hospitality professionals and students with the tools to assist them receive guests with care, professionalism and tolerance.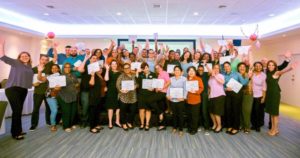 The second training program was held in Aruba in partnership with Interval International and focused on leadership, motivation and team morale. Additional courses were held on housekeeping best practices and excellence. More than 70 industry professionals completed the courses, which were endorsed by the Institute of Hospitality and delivered by Springboard Caribbean.
In support of this initiative, CHTAEF Chairman Karolin Troubetzkoy said: "The training takes into account changing demographics and psychographics of today's travelers and will help our team members achieve their goals of providing superior customer service to visitors to our region."
She thanked the educators for their focus on leadership and technical training, given the importance of increasing the number of Caribbean nationals securing managerial positions across the industry.
CHTAEF plans to roll out several more training sessions in other destinations around the region in 2019.
About CHTA Education Foundation
The Caribbean Hotel and Tourism Association Education Foundation (CHTAEF) was established 30 years ago as a stand-alone 501(c)3 nonprofit, tax-exempt organization, through which scholarships and special assistance are available for the education of Caribbean hotel industry personnel and students pursuing careers in hospitality and tourism. The Education Foundation has awarded more than US$2 million in scholarships and grants to applicants who demonstrate a strong commitment to the Caribbean hotel and tourism industry. For more information, visit https://caribbeanhotelandtourism.com/about-the-foundation/training or contact foundation@caribbeanhotelandtourism.com.
About Interval International
Interval International operates membership programs for vacationers and provides value-added services to its developer clients worldwide. Based in Miami, Florida, the company has been a pioneer and innovator in serving the vacation ownership market since 1976. Today, Interval's exchange network comprises nearly 3,200 resorts in over 80 nations. Through offices in 15 countries, Interval offers high-quality products and benefits to resort clients and approximately 2 million families who are enrolled in various membership programs.
About Virgin Holidays
Virgin Holidays is the UK's favorite worldwide holiday company. Founded in 1985 on the Virgin principles of excellent customer service, value, reliability, responsibility and a sense of fun, it has used its entrepreneurial heritage and passion for innovation to benefit customers and communities around the world. The brand is particularly known for the 'magic touches' it has brought to market. From the world's first dedicated airport leisure lounges to the Branson Centre of Entrepreneurship in the Caribbean, Virgin Holidays puts its customers and the communities it works with at the heart of its commitment to do things differently. In 2015, it was voted Best Large Holiday Company to the USA, Canada and the Caribbean for the fourth consecutive year at the prestigious, consumer-voted, British Travel Awards. For more information, contact press.office@fly.virgin.com.
ENDS