Felicitaciones a Nueva Icono de la Industria de NEWH 2017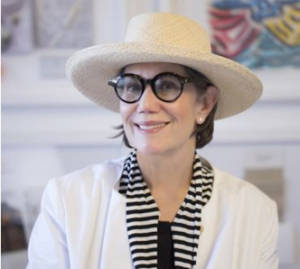 El Network of Executive Women in Hospitality le otorgó a Janice Feldman, distinguida miembro aliado de la CHTA, el nuevo Premio NEWH 2017 Icono de la Industria.  Este es el duodécimo Premio ICON que se otorga en los 37 años de existencia de la organización y se presentará en una gala en BDNY en la ciudad de Nueva York este otoño.
Janice Feldman, directora ejecutiva de JANUS et Cie, ha sido líder en la industria del diseño desde los inicios de la compañía hace más de 35 años.  Es una artista y diseñadora de interiores con educación formal en artes gráficas y diseño industrial.  Es reconocida como una empresaria inconformista, creadora de diseños fabulosos, y visionaria en el campo de la innovación de tejidos.  Es apasionada de los viajes, ha escalado el Himalaya y ha rastreado chimpancés en las junglas de Tanzania.  Su búsqueda por comprender diferentes culturas la ha llevado a Europa, al sureste de Asia y al mediano oriente.  Su gran devoción por la responsabilidad ambiental la ha motivado a utilizar materiales ecológicos.  Esta dedicación ha sido reconocida a través de la industria.  Gracias al espíritu de Feldman, lo que comenzó como una empresa de representación de muebles establecidos y manufactureros de tejidos se ha convertido en una empresa única y ecléctica, la fuente principal a nivel internacional para muebles y accesorios contemporáneos.  Feldman desempeña una función importante en el desarrollo del producto en JANUS et Cie y ha creado diversas colecciones reconocidas y galardonadas.  Adiciones recientes incluyen a Katachi, Capella, Artemis, Sash, Amari, Boxwood, Capsule, Relais, Suki, Tadlow, Triad, Vino, Whisk, Wing y Whiskey.  En abril de 2017, Feldman recibió un doctorado honorario en Bellas Artes del ArtCenter College of Design.