Global industry research continues to highlight that prospective travelers place a high value to health safety certifications as the top consideration when choosing their vacation destination and accommodation provider. It is vital for hospitality businesses to continue to train their teams and seek these resources that will help provide reassurances to visitors, employees and residents.
These are not certifications, these are recognitions of your health safety commitment. Receipt of these tools is based on commitment from the organization to implement and continue compliance of the requirements set forth by CHTA along with the objectives established by the CARPHA-CTO-CHTA-OECS-GTRCMC COVID-19 Task Force.
Marketing tools available to Caribbean businesses: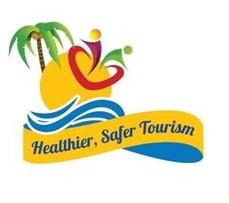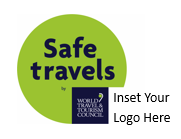 CARPHA's Caribbean Travellers              WTTC Safe Travels Stamp               CHTA's Health Safety Commitment
    Health Assurance Stamp                                                                                       Listing on CHTA's Website &
                                                                                                                            CaribbeanTravel.Com Consumer Website
Please complete the following steps to receive the above marketing tools:
STEP 1: Register your Hospitality Facility for CARPHA's Tourism & Health Information System (THiS). Please click here to register and choose one of the following choices that best fits your organization: Hotel Facility, Ground Transportation, or Tour Operator.
STEP 2: Hospitality Facility to report on THiS for at least 1 month. Reporting also includes zero cases for each week.
STEP 3: 10% of all Hospitality Facility staff, including senior management, to attend and receive Certificate of Participation for the 'COVID-19 Essential Health Guidelines for Hospitality Sector' Training Webinar. Sessions can be found here.
STEP 4: CARPHA to review, approve, and provide the Hospitality Facility the Caribbean Travellers Health Assurance Stamp & listing on Mobile App
STEP 5: Once all above steps are completed, review and sign the CHTA's Health Safety Commitment Recognition Form, and email it to information@caribbeanhotelandtourism.com (please note, recognition form downloads as a Word Document)
The CHTA team will review applications weekly, every Friday, and respond with appropriate links to download the WTTC Stamp and CHTA's Health Safety Commitment Recognition Stamp graphics within a week of receipt. In addition, the organization will then be listed on CaribbeanHotelandTourism.com and CaribbeanTravel.com (consumer website and resource for travel advisors) as a company that is committed to health safety in support of our efforts to safeguard our industry.
Please note, CHTA non-members can apply to the WTTC Safe Travels Stamp for an administrative charge from CHTA of US$50.00.