Local Measure Wins the Phocuswright Emerging Innovator Award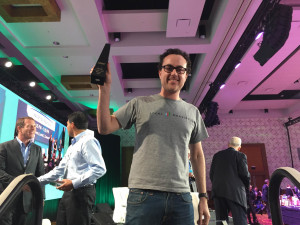 Sydney-based CHTA Member, Local Measure, a leading location-based social platform for hotels and the tourism industry, won the award as top innovator among emerging companies at The Travel Innovation Summit. Each year, dozens of innovative companies are selected to demonstrate groundbreaking applications and solutions that are set to change the travel industry.
The winners represent the best of this elite group. This year, the top innovator was not a traditional "booking funnel" company – but one focused on helping hospitality providers deliver outstanding, surprising service for their guests.
"There's no more pressing issue for the hospitality industry than creating loyal customers," said Jonathan Barouch CEO and Founder of Local Measure. "While hotel professionals have known this for years, they finally have the tools to achieve it – thanks to technology that lets them understand their guest's needs, and deliver personalized, exemplary service at every turn. Social media provides the link – and we are honoured to have been recognized by the top minds in the industry for providing solutions that help hoteliers and destinations leverage it to their full advantage, and the delight of their customers."