Regional Tourism Industry Set to Take Centerstage at UNWTO Global Conference in Jamaica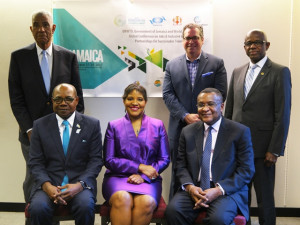 The regional tourism industry is set to take centerstage during the UNWTO, Government of Jamaica and World Bank Group Conference on Jobs & Inclusive Growth: Partnerships for Sustainable Tourism, at the Montego Bay Convention Centre, November 27-29, 2017. Speaking at a press conference on June 6 at the Consulate General of Jamaica during Caribbean Week in New York, Jamaica's Minister of Tourism, the Honourable Edmund Bartlett noted that given the region's dependency on tourism, it was important that such a conference provide solutions on how the Caribbean can better leverage this industry.
"The conference programme, though global in nature, is highly significant to the Caribbean. And therefore, we felt that we should incorporate a programme specific to the Caribbean and some of the issues we grapple with. This programme will take place on the first day of the conference on November 27," noted Minister Bartlett.
With the regional focus on opening day, the Ministry of Tourism received the endorsement of the Caribbean Tourism Organization (CTO) from Secretary General Hugh Riley and the Caribbean Hotel and Tourist Association (CHTA) by way of Matt Cooper.
Minister Bartlett stated that tourism is the single largest generator of foreign exchange in 16 of the 28 countries in the Caribbean and the sector receiving the most foreign direct investment (FDI), adding that the region has a higher proportion of total employment and percentage of GDP derived from tourism than any other region in the world.
According to the Tourism Minister, "it is estimated that 1 in every 4 persons is employed by tourism-related activities and the sector accounts for 41% of all exports and services in the Caribbean and 31% of all gross domestic product".
Additionally, Minister Bartlett indicated that similar to what was done with the global aspect of the conference, the organizers have included a number of Caribbean themes within the Call for Papers, which cover tourism and sustainability, where the threats, risks and challenges will be discussed; the strengthening of the human capital and human capital trends; the tourism value chain linkages and technology and innovation.
According to Minister Bartlett, one of key expected outcomes from this global conference is the Montego Bay Declaration. "At the end of the conference, there will be the compilation of the Draft Montego Bay Declaration. From this will flow an action plan for tourism destinations to follow, as well as the publication of the second volume of the UNWTO Global Report on Public Private Partnerships".