Max Loayza Named Food and Beverage Director of Four Seasons Resort Nevis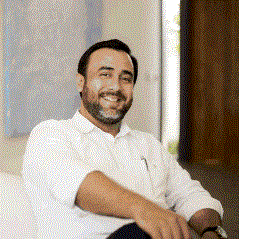 Four Seasons Resort Nevis welcomes the appointment of Max Loayza to Director of Food and Beverage of the Caribbean resort. Since taking on the position, Max has overseen the Resort's top-rated, gourmet culinary program, focusing on fresh, locally sourced ingredients and creativity.   
"We are glad to welcome Max back to the Four Seasons family," said General Manager Ed Gannon. "Max's lifetime of experience has been an immense asset in setting a new bar for gourmet Caribbean dining at the Resort. Max brings his world of experience back to Nevis."
Max grew up in Ecuador in a family of restaurateurs, where he learned marinades, grilling, and restaurant management principles at a very early age. Max left Ecuador for Switzerland to attend Les Roches Hotel Management School and from there, his International career took off.  Max has held positions at various hotels and resorts throughout the world including St. Barth's, Doha, Shanghai, Mexico, Maldives, and the former Four Seasons Resort Great Exuma in the Bahamas, for which he trained on Nevis for that resort's opening as a young Food and Beverage Manager.     
"I'm very happy to be back in Nevis, especially at a Resort that has helped me grow in my career," said Loayza. "It's such a beautiful property and continues to challenge and inspire every dish that's created."
Since his appointment, Loayza has helped develop the new beach bar called Kastawey, a relaxing and eclectic space that was inspired by the laid-back vibes of the Caribbean. At Kastawey, guests can enjoy delicious gourmet seafood inspired dishes and refreshing cocktails including the Kastawey Smash rum punch.